Last year my wife and I made a special trip to Battle Ground, Indiana (just outside of Lafayette), to visit one thing that had been on our 'bucket list' since the day we met…Wolf Park [WolfPark.org]. It took us 8 hours of driving to get there – but it was worth every minute. Our experience of getting a wet kiss from a real wolf and plenty of photo opportunities can be found HERE.
What we didn't expect on our journey was the wonderful city of Auburn, Indiana. We stopped in Auburn for a coffee break – only to discover there are a number of auto and air museums there. If you love cars and/or planes – this is your mecca. You simply MUST take the time to visit Auburn, or even make it an actual trip destination.
If you're planning a trip to the Indy 500 or even a NASCAR event at either Michigan International Speedway (MIS) or Chicagoland Speedway – you aren't far from Auburn. Located a little over Read the rest of this entry »
OAKVILLE, Ont., May 5, 2015 – Ford Motor Company of Canada Ltd. is helping Canadians retire older vehicles and get into a new vehicle through the Ford Recycle Your Ride (RYR) program.  Ford of Canada is working with the Automotive Recyclers of Canada (ARC) to recycle customer's 2008 model year or older vehicles for up to $2,500* toward the purchase or lease of a new Ford vehicle.  The program will run at Canadian Ford dealerships during May and June 2015.
ARC reports that approximately 83 per cent of an average vehicle's content by weight can be recycled, just one reason why it is important to ensure that your end-of-life vehicle (ELV) ends up in the hands of a responsible automotive recycler or dismantler, like Ford of Canada.
Canadian Ford dealers have helped more than 69,500 customers recycle their ride since 2009.
To participate in this program, take your 2008 or older model year vehicle from any make or model that has been insured for at least the last three months to your local Ford dealer and receive up to $2,500* in cash towards the purchase or lease of a new Ford vehicle. Read the rest of this entry »
Stuttgart.  When it comes to new registrations of electric cars in Germany the same name takes first place every year: smart fortwo electric drive. This is a hat trick for the battery-electric two-seater – for the third time in a row it has beaten all competitors with all-electric drive (without range extender).
With more than 4700 new registrations since the first generation in 2007, the e-smart is Germany's most successful electric car by far. It is also very popular among Daimler AG employees who have covered more than 1.5 million zero-emission kilometres to date within the framework of the electric mobility project "charge@work". Read the rest of this entry »
INTRODUCING THE LINCOLN CONTINENTAL CONCEPT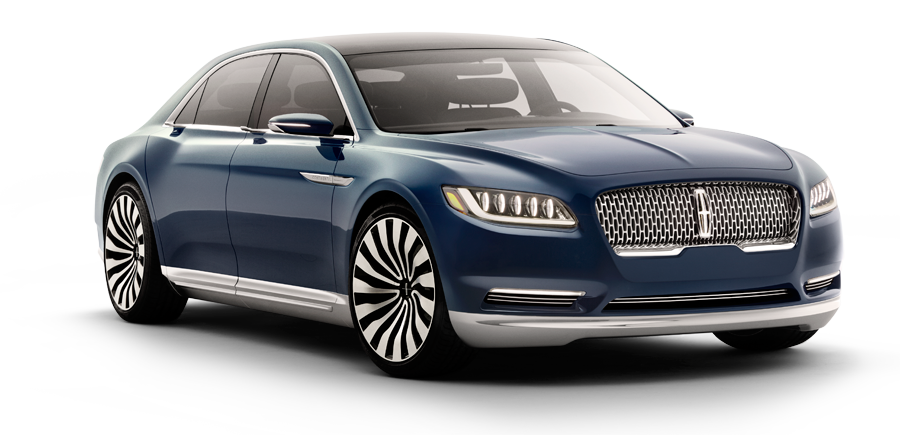 Elegant, effortlessly powerful and serene, the Lincoln Continental Concept signals the future of quiet luxury and the all-new full-size sedan coming next year.
"Luxury at its best is about simplifying and quietly exceeding expectations, rather than being the loudest statement on the road," said Mark Fields, Ford Motor Company president and CEO. "The Continental Concept showcases the promise of quiet luxury from Lincoln going forward. It also is a strong indication of what's to come next year as we introduce our new Lincoln Continental full-size luxury sedan." Read the rest of this entry »
Instantly recognizable yet thoroughly fresh, Kia will introduce the all-new 2016 Optima at the upcoming New York Auto Show on April 1st at 1:20 PM.  Available with multiple engine choices, the all-new Optima features a more spacious interior, class-up premium features and a number of technologies not previously offered on Kia's best-selling mid-size sedan.
First came the the BMW 4 Series Coupé and Convertible, and then the Gran Coupé – for those that wanted more than two doors and didn't want a 3-series sedan (!?)… or GT.
Hmm that doesn't make sense, but here we are.
According to BMW the "4 Series Gran Coupé combines the sleek look of a two-door coupé with the functionality provided by four-doors and expansive spaciousness, including a wide-access luggage compartment." To you and I that means – it's a 4-door hatchback. I know I'm getting old, but it don't look like a 2-door coupe to me – it looks like a 4-door sedan with a bonus huge rear hatch that looks like a trunk not a hatch.
This raises some serious questions – most notably – WHY does this vehicle exist? Time for me to investigate. So off to Germany we went – to the home of high-speed autobahns… Time to see just what this thing is all about… Read the rest of this entry »
Don't forget…. We'll be tweeting live from the show – including pictures from the vehicle launches as well as other auto-related information/pictures. The Tweets will simultaneously be fed to our Facebook page if you'd rather follow us there.  Follow us on Twitter: @Road_Test or follow us on Facebook: facebook.com/RoadTest.org using the hashtag: #cias2015
The following exotic vehicles will be on display at the 42nd edition of the Canadian International AutoShow:
PFAFF
2015 MCLAREN 650S Coupe, 2015 650S Spider & a 2012 12C
Pfaff | McLaren is thrilled to be back at the 2015 Canadian International Auto Show for another successful year. Guests can look forward to seeing 3 McLaren models at this year's show, including a 2015 650S Coupe, a 2015 650S Spider and a 2012 12C Coupe that features a custom MSO (McLaren Special Operations) front bumper. 
**
LOTUS
Evora Sports Racer
The Evora Sports Racer is available (Canada only) with the Supercharged 3.5 liter DOHC V6 VVTi 24-valve power train, and with either 6 speed manual or IPS transmission.  Loaded with optional extras and the 2+2 seating option as standard. The 'Sports Pack' provides switchable sports mode with sharper throttle response, increased rpm limit and sportier setting for Dynamic Performance Management (DPM), sports diffuser and cross-drilled brake discs. The 'Tech Pack' provides upgraded speakers and stereo system, DVD player, 7″ WVGA touch screen display, Bluetooth® mobile phone connection, USB connection for various iPod® models, MP3 players and memory sticks, tyre pressure monitoring, cruise control and rear parking sensors.  Read the rest of this entry »
CANADIAN VEHICLE PREMIERES
As promised, here are some more details of the vehicles you'll see at the 2015 CIAS in Toronto running February 13-22, 2015. Tomorrow we'll preview the AUTOEXOTICA VEHICLES from the show..
The following vehicle premieres will take place at the 42nd edition of the Canadian International AutoShow:
ACURA
NSX
**
AUDI
2016 Audi RS7
Dynamics in a new top form – Audi has honed the RS 7 Sportback. The large five-door coupé comes with new LED headlights and even more enhanced infotainment features. With 560 hp and 516 lb-ft of torque, its 4.0 TFSI engine provides for an impressive driving performance.
2016 Audi TTS Coupe
A modern classic re-launched: Audi introduces the third generation of the TT to the road. The compact sports car captivates as a design icon with the driving dynamics of a genuine sports car and a revolutionary, fully digital cockpit. Read the rest of this entry »